Reason 12 Review: What's Good, What's Bad, What's Sad
ReasonStudios released Reason 12 today there's an equal amount of excitement and disappointment in the community (can't please everyone). Review the following Reason 12 updates:
Combinator 2: you can do a lot here as far as just saying the background colors controls knobs panel size you can etc
Mimic Creative Sampler: Reason Studios brand new sampler encompassing already existing functionality
HD Graphics: better graphics less strain on the eyes
Browser Update: they've made it easier to find Patches, presets Etc basically a workflow update
That's what Reason 12 has to offer. Let's jump into it.
Reason 12 Updated GUI Hi-Resolution Graphics (Just OK)
I think the new GUI update looks okay. It's nice to be able to scale my reason instruments/devices to taste versus squinting, especially being a reason rack plug-in user on a big crispy 4k monitor. Looking at those little graphics was unbearable. I'm glad that they finally addressed that. The new hi-res graphics are pretty good but I'm not sure I'd say they're Hi-Res.
I'm still seeing a little pixelation in some of the stock units (I'm sure it'll be fixed). This could be an issue with my redraw, I'll do more tests and come back and revise.
Also, Reason 12 is sluggish overall on the M1, hopefully, there is an update for this soon.
This will definitely result in better looking video and graphic content surrounding ReasonStudios.
Mimic Creative Sampler (Bad)
One word 'overhyped'. Despite the hard work said to be put into the Mimic Creative Sampler, I can't bring myself to appreciate it. It's a SAMPLER of Reason's samplers. Mimic does a partial job of pre-existing samplers and does a decent job of it (at best).
If anything, it should be labeled ComputerMusic FreeWare. In fact, that would be an excellent marketing vehicle. ReasonStudios could float Mimic out there for free and as it gives everyone a taste of what some of the other samplers are capable of.
New Browser (Kind of Good)
Easier browsing for sure. I wouldn't say it's great but it's definitely a step in the right direction. A lot better than what was previously offered. They still have a ways to go.
Make it tag-based
Make the samples play in sync with the bpm when auditioned
At the very least as they're soo basic things. Sony ACID Pro was doing this 20 years ago. Today, it's a standard, I'm not sure why Reason can't keep up.
Some users have reported that it now takes longer to search for and find sounds vs their experience in Reason 11.
Reason Combinator 2.0 (Good)
Good update here. Very expandible, I like that you can customize the unit the way that you want in terms of functionality. You can add your own:
I didn't care much about the Combinator update until I realized how similar it was to Melda Production and their environment (kind of) which gives you the ability to roll your own…The light bulb went off. This type of update could invite the same type of custom plugins/banks we see with Kontakt (maybe).
Easily one of the best features they've added since the Reason Rack Plugin.
Reason 12 Video Advertisement
Reason 12 Review: The Reason Community Responds On Instagram
What's Missing From Reason 12 (Ugly)
Where to start…There are still a lot of basic midi and audio production functions Reason doesn't have. I understand that Reason didn't start out as a DAW, but more as a Production Tool but the moment that they enabled recording and merging Record with Reason and marketing their tool as a DAW is the moment they set themselves up to be scrutinized as such.
There's no reason for Reason in 2021 to be behind MOTU Digital Performer 4 or Cubase VST5 in both of those departments. There's just no excuse for that. A lot of people say that Reason Studios operates with a small team…. so do a lot of other companies and they still aren't that behind.
Reason 12 is still lacking VST3 support but the word on the street is that the update will roll out in November 2021.
Video support is a feature Reason users have been asking for almost 20 years…We still don't have it and it's basic. In all fairness, we can kind of say Reason fixed it and a lot of other issues by giving everyone the Reason Rack Plugin, but that's only if you're willing to use another DAW.
Unfortunately, those music producers/creators who aren't willing to use another DAW are getting the short end of the stick with these updates especially those who need and want sequencer updates.
Is Reason 12 Worth It? (Maybe)
This is a tough one because, on one hand, it does look better, but if you've been working comfortably in 10 or 11, then maybe the new GUI isn't too important. If you're a Reason Rack Plugin User I'd say yes, the scalability is nice and definitely needed if you have a good monitor. I don't know about you but before Reason 12 the Reason Rack Plugin was the only plugin I had that wasn't scalable.
If Reason is your DAW of choice, there isn't much new aside from Mimic and Combinator 2 nothing game-changing. If I were a dedicated Reason Daw user I'd wait to see what comes down the pipeline within the next 6 months or so especially if you aren't making money with your music.
Oh, and the Redrum now has an animated fan. Now you don't have to worry about it overheating while you're programing those fire beats!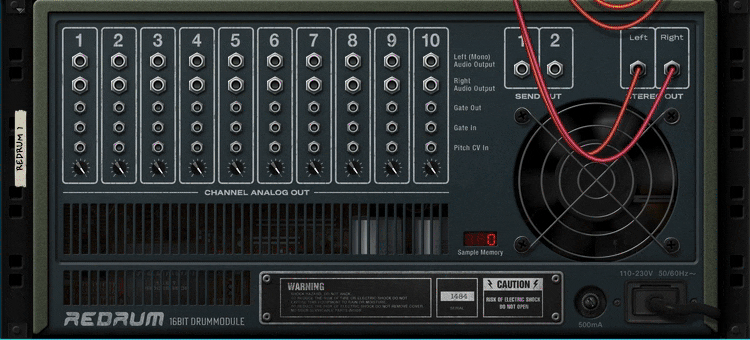 Reason 12 Review: Conclusion
All in all, it seems like Reason 12 is still a work in progress. It's sluggish, uses more resources than Ableton Live at this point… But… We have to remember they (the dev) changed their branding and ownership not long ago, switching from Propellerheads to ReasonStudios and since then have gone in a New Direction. The update is cool. I'm not sure if it should be a paid update or not but I'm not entirely disappointed with it.
That being said, I look forward to seeing where Reason goes in the future. They've always had a knack for creating great production tools I believe that's what they're good at and I think that's where they should stay.
Head over to ReasonStudios for more information on Reason 12.