Pulsar Audio coming through with one of the coolest compressors in 2021. When people talk about FET compressors, they're generally talking about the infamous 1176. Seeing an emulation of the 1178 is very refreshing.
Of course, we had to pick Pulsar Audio's brain a little bit.
Who Is Pulsar Audio?
Pulsar was created in 2018 by Niccolò, François, and Vincent, 3 musicians with a passion for signal processing. More particularly sound processing (François and Niccolò are pianists, Vincent is a guitarist and sound engineer).
The company is based in Grenoble, France. We have worked in the past for important companies in the plugin industry (Arturia, Eiosis / Slate Digital). We created Pulsar with the desire to raise the quality standards of the plugin market.
What Was The First Plugin Created By Pulsar Audio?
For the first plugin, we were looking to emulate a very colorful and original machine – one that could be used by musicians and sound engineers alike. The Binson Echorec II imposed itself quite naturally.
What Was The Idea/Inspiration Behind the 1178?
At Pulsar, we like the color, and we like the compressors – we wanted to dust off a reference and propose a fairly well-known machine while doping it with steroids.
When we came across the 1178 in the studio, our first reaction was "oh no, we're not going to do a 117X yet".
then studying the history of this compressor (which was a reference in bus compressors in many studios in the 90's) and listening to it (more transparency than the old 1176, but still it's so characteristic of the FET) we got used to the idea that it was an excellent choice.
What Makes The 1178 Different From Other Compressor Emulations?
The excellent general quality of our emulations comes from the combination of our very advanced technical approach (we are constantly developing new methods to emulate electronic circuits as faithfully as possible) with a slightly more empirical approach, where careful listening allows us to target the small "defects" that make analog material so endearing in order to reproduce them more faithfully than with a pure mathematical model.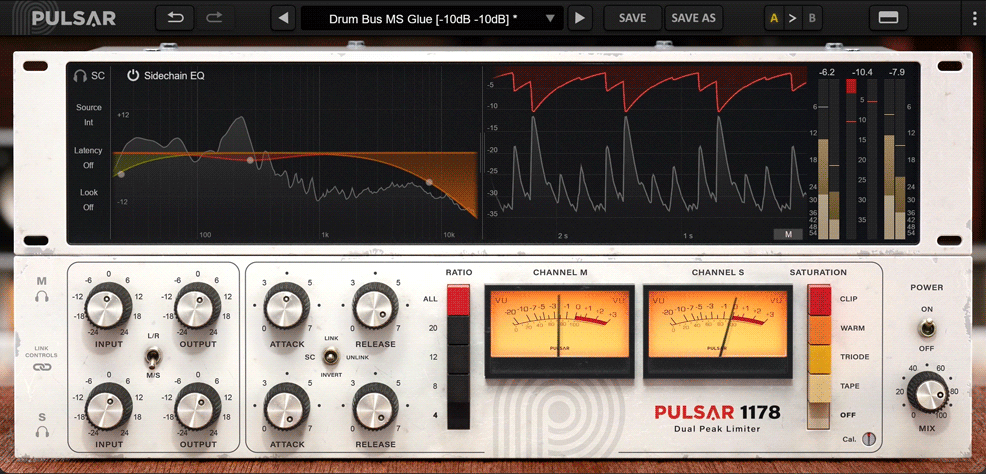 Moreover, we like to offer the most accurate visualization possible, in order to give our users a precise vision of what they are doing – and obviously, in 2021 it seems to us indispensable to add all the features offered by the digital world, such as the set of treatments added to the 1178 and Mu sidechain, in order to give our users total control over the way they process their sources (and consequently extend the sound territory of the original machine).
Any Tips For Using The 1178 Compressor?
We love the 1178 especially:
For vocals – thanks to its fast attack/release, it adds a unique dynamic contour, very hard to reproduce with other compression technologies.
On a bass guitar, in All Buttons mode or with a high ratio.
On Drum busses, doing parallel processing, is more drastic/raw than the Mu.
How Are You Able To Keep Your Plugins So CPU friendly?
we have very good computer knowledge; we are constantly keeping up to date with the evolution of programming languages and processors – we are very demanding on the quality of the code of our projects.
What's Next For Pulsar Audio?
Surprise!
You can find out more about Pulsar Audio and their plugins here