Audio Plugins
Music Software
News
Free LA2A Compressor Plugins: LALA, CA2A & More! (2023 Edition)
50+ Years Later The LA-2A is Still A Go To For Top Engineers & Producers
In this article we're going to go over the LA2A (LA-2A) Compressor, it's features, settings why its great and some excellent vst plugins that emulate the LA-2A.
The LA-2A (aka Leveling Amplifier) is by far my favorite compressor. Doesn't matter what I'm working on; Video games, Sound Fx, Music/Instrumentals for TV, or Voiceover work. The LA-2A is going to be somewhere in the project(s). The hardware version is great but can be expensive. Companies like Slate and Waves make emulations, you can check out FG-2A vs CLA-2A, but before spending a dime check out some of the free LA2A compressor plugins, some are really good.
Best Free LA2A Compressor Plugins For Music Producers and Engineers
What Are LA-2A Compressors?
The LA-2A is an Opto Compressor invented by James F Lawrence and widely used by many producers and engineers around the world.
What makes this compressor a favorite amongst audio professionals is its sonic character. The warmth and smoothness it gives to the audio source (vocals, synths, etc) is incredible.
How To Use The LA2A Compressor
The LA-2A Compressor is very easy to use. There are only two knobs you 'need' to understand, Gain and Peak Reduction.
1. Peak Reduction: This allows you to determine when the signal starts to release (sort of like a threshold)
2. Output Gain: This is your makeup again after Peak Reduction. Do not confuse this with 'input gain!'
3. VU Meter: Displays your levels
There are no knobs to adjust attack, release, threshold, or ratio. Those are all fixed parameters on the compressor.
Attack time: Around 10ms
Release Time: The release is about 60 milliseconds for the first half of your signal. The entire release time, depending on the signal could be anywhere between 60ms to 5 seconds.
Compression: This is a 4 to 1 ratio (or close to) some are 5 to 1.
Limiter: 10 to 1 or Infinity to 1 ratio, depending on the emulation.
The slow attack and release are what's responsible for the smooth compression industry professionals love.
The input level (program) is what governs the amount of compression as well as how the unis attack and release settings react making it program dependent.
So, the louder the audio signal sent into the compressor, the more compression is applied.
Where Do LA-2A Compressors Shine?
Everything, if you know what you're doing, but more traditionally; vocals, synths, basses, drones, etc. Basically, anything that isn't short with snappy transients.
Why Use A LA-2A Compressor?
The LA2A warms up everything. If you want fat kicks and bass, use an LA2A. Want meaty drums, use an LA2A. It sounds good on everything, you'd have to really put some effort into making this compressor sound bad. Very magical on busses and pairs nicely with FET compressors, like an 1176.
Download Any Of These Free LA-2A Compressor Plugins
LALA: Great LA2A Compressor
Lala is probably one of the more popular or better known free la-2a compressors on the market. It's made by a company called Analog Obsession and like the real thing, it's very easy to operate but offers a couple more features.

LALA Additional Features Worth Noting
Mix Knob: Mix between compressor vs dry signal
Compressor/Limiter: Switch between LALA operating as a compressor or limiter
Power Button: Works as a bypass for the compressor
Ext: engages the external sidechain feature
3 Band EQ/Filter Section:
HPF: High Pass Filter is used to remove unwanted low end
MF / MG: Governs LALA's sensitivity of mid frequencies
HF / FLAT: Governs LALA's sensitivity of high frequencies
I was very surprised to learn that Analog Obsession changed its business model. They offer all of their plug-ins for free and give you the option to donate. That's a unique business model but it seems to work for them.
CA-2A T-Type Leveling Amplifier
This is one of my favorite LA2A compressors although it might be hard to find now. It was free when Cakewalk was owned by Gibson. Bandlab is the new owner. They give the DAW (Cakewalk) away free, I can't imagine them charging for the CA2A.

It might be a good idea to reach out to them and check. If you can get it (or find it) do so as it is a good  'sounding' free la2a compressor and it has a side chain feature. If I'm not mistaken, there was a time when Cakewalk offered their LA2A free as a Reason Rack Extension.
CA-2A Features Worth Mentioning
Limiter/Compressor: Gives users the ability to use the CA-2A as a compressor or limiter
R37: Gives control over the amount of high-frequency compressor
If you're a Reason user, it would be worth reaching out to ReasonStudios to inquire about this rack extension.
S.L.A.X  (LA2A Emulation) by Sonic Anomaly
Inspired by the Teletronix LA-2A, S.L.A.X offers a dark and aggressive character that works well for string instruments as well as vocals and drums.
Unfortunately, this compressor isn't going to be available to everyone. If you use Reaper DAW or use Windows (operating system) then you'll have no problem installing this compressor. On the other hand, if you're a Mac user who does not use Reaper DAW then you're out of luck.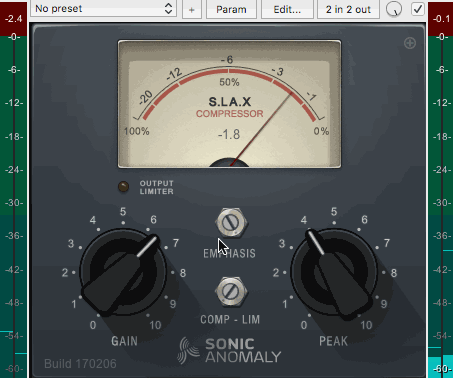 S.L.A.X Features Worth Noting
Compressor/Limiter: This knob allows you to switch between using S.L.A.X as a limiter or compressor
Emphasis: Smoothens sibilants and controls the amount of high frequency that influences the sidechain
Comp/Limiter: Allows the user to switch between compressor and limiter in a continuous fashion
Sound Coloration: 3 settings on the back of the compressor allow you to choose your color/tone
Download S.L.A.X vst
ADHD Leveling Tool
It's not pretty, but it gets the job done. IMO, it leans a little closer to a 3A as opposed to a 2A. With that being said, it reminds me a lot of the Waves CLA-3A plugin, but free! You get the same peak reduction and gain level knobs, but with a few more options you can 'control'.
ADHD Leveling Tool Features
Attack: Controls when the compression starts
Release: Allows control over when the compression begins to fall
Ratio: How much compression is being applied to the signal
Dry/Wet: This allows you to blend the compressed and uncompressed signal
Sidechain (High Pass Filter)
Drive: Used to introduce saturation
Now, remember the LA-2A has a 10ms attack and 60ms release, you have more control over those values with this emulation.
Visit ADHD to Download their Leveling Tool
LA2A Compressor FAQ
1. What is The LA-2A compressor good for?
The LA-2A compressor is pretty versatile and can be used for synths, bass guitars, vocals, and drums/percussion. It's great for adding warmth to sounds
2. What type of compressor is the LA-2A?
The LA-2A is an Opto tube-based compressor and uses T4 cell for gain reduction.
3. What ratio is The LA-2A Compressor?
The LA-2A compressor's ratio fluctuates and is dependent on the source sound it's compressing
4. Is The LA-2A a Compressor or Limiter?
The LA2A can function as both; a limiter and compressor by toggling its switch
5. LA2A Compressor Conclusion
This is a shortlist of la-2a emulations you can use to improve your sound. These plugins are great on a variety of instruments, they add nice warmth and smoothness and can function as a compressor or limiter. If you know of any others worth mentioning, please let us know.
If you need a good versatile compressor and don't mind spending a few dollars, check out the IK Multimedia Comprexxor.
More free LA-2A emulation plugins coming soon to come soon.