BOOM Library ENFORCER is an invaluable tool for audio engineers, producers, and sound designers looking to add professional-grade bass frequencies to their productions. It has the ability to add insane punch, a powerful body, and a rigorous low-end bass impulse to your samples.
Enforcer ensures maximum impact with its robust low-frequency preservation and advanced frequency alteration techniques.
BOOM Library ENFORCER provides unprecedented control over the subtleties of your tracks without compromising on clarity or punch.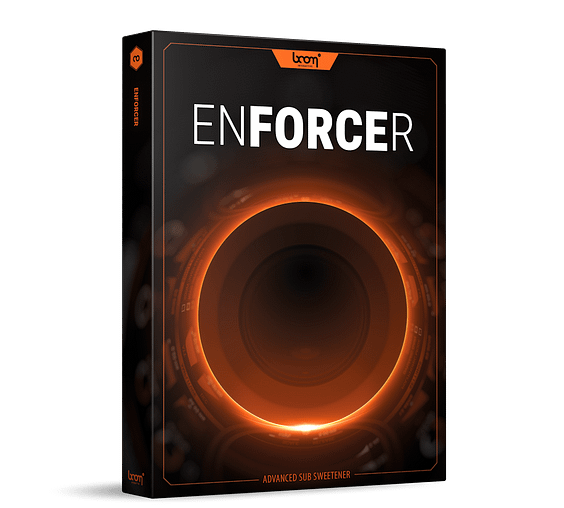 Is BOOM Enforcer Easy To Use?
Enforcer is also incredibly easy to use. The plugin has a simple, user-friendly interface that allows users to quickly dial in the sound they are looking for. It also includes a variety of presets, allowing users to quickly get started without spending time creating their own settings.
Main Plugin Features
Boost the power and punch of your mix.
Triggered by source audio, making the need for manual sync irrelevant
The trigger can be tuned to enforce exactly and only what you want.
"Play" ENFORCER on your MIDI keyboard
Semitones are used to tune kick drums and snares.
Source frequencies can be ducked for a completely clean and professional mix.
Simple to use bass plug-in
115+ FX Presets
ENFORCE Precisely The Frequencies You Want
Watch Enforcer In Action
Enforcer Conclusion
Other plug-ins may be able to replicate Enforcer's functionality, but I really enjoy the quick workflow. For example, being able to toss the plugin on a channel, and it just works!
The lovely presets it comes with are great for helping you get started as well. I've used it successfully to shape kicks and snares in both Hip-hop and Pop genres.
There are many advanced features as well, such as a ducking mode. No plugin should be with a wet and dry knob. With it, you can dial in the exact processing amount of the plugin on your dry signal.