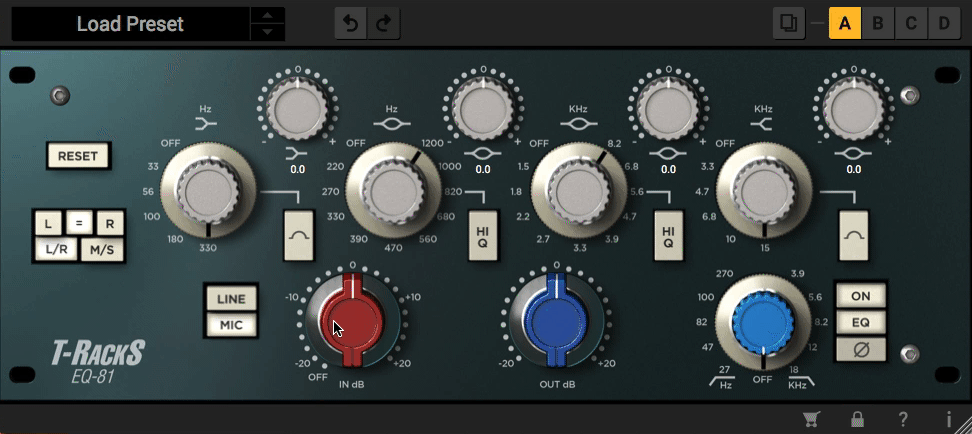 Coming off the heels of IK Multimedia's huge sale(s) and new Tascam Collection, they're now giving everyone a chance to Download T-Racks EQ81 FREE! For those wondering, The T-RackS EQ 81 is a Neve 1081 emulation, really good for coloring.
This is great and quite a surprise! I always expect IK Multimedia to release Free plugins and every year, we see one of the following:
Black 76: 1176 Compressor emulation
Clipper: Clipper, not sure what else to say about it. Clips nicely!
White 2A: LA2A Compressor emulation
This is the first time I've seen them give away their EQ 81. This is a really nice-sounding British-styled EQ. It's similar to the 73, but with more bands which give you more control over your sound.
What We Like About This EQ (Hopefully You Will Too)
Mid Side Control: Process the Mid and Sides independently
Left/Right Processing: Those looking for a good simple way to build width in a mix or with instruments…EQ the left and right sides and you're done!
Preamp: Both Mic and Line options, are good for beefing up your sound signal
How To Download The EQ81 FREE (Video)!
Instructional 'How To' Download T-Racks EQ81 For Free
Just in case you can't watch the video, we have text instructions
Step 1: Log into your IK Multimedia account or create one if you don't have an account.
Step 2: Go to the User Area
Step 3: Sign up for the Newsletter via the Redeem Pop up
Step 4: Download the IK Product Manager and open it
Step 5: Select Manage My Products, then using the Software tab, click the Install and Authorize button to the right of T-RackS 5
Step 6: Click Re-Authorize if you're already authorized
Step 7: Open your daw, load the  EQ 81 on a channel of your choice and Enjoy!
Pro Tip: It does some wondering things on the busses: Instrument, Drums, Mix, etc. Just an all-around good EQ to have.
Learn more about T-RackS 5